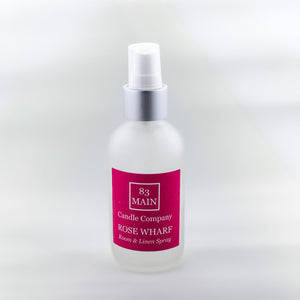 Ozone, mandarine, rose, powder and honey combine to create this perfectly fresh, romantic fragrance. This clean, coastal scent is infused with rose petals to freshen and lighten up your space; the true smell of sweet summertime.
Room & Linen Sprays are infused with your favorite essential oils and fragrance oils as a more natural way to cleanse and revitalize the air around you. They are a great flameless alternative to eliminate odors and freshen your room and linens. Room & Linen Sprays are even safe to spray on your skin! 
Directions: Shake and spray.
Volume: 4oz
Ingredients: Purified Water, Polysorbate-20, Disodium EDTA, DMDM Hydantoin, and fragrance oils.