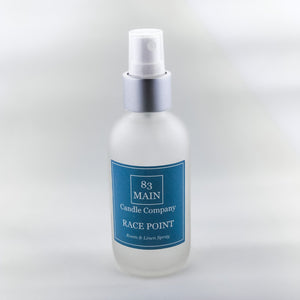 Pachouli, musk and sandalwood blend together to take you to the exotic sands of Race Point Beach in Provincetown. Ptown, as many call it, is known as the tip of the Cape... a long journey not for the faint of heart. But as you near the beaches of Ptown, you know you have arrived someplace special, and this scent transports you right there. 

Room & Linen Sprays are infused with your favorite essential oils and fragrance oils as a more natural way to cleanse and revitalize the air around you. They are a great flameless alternative to eliminate odors and freshen your room and linens. Room & Linen Sprays are even safe to spray on your skin! 
Directions: Shake and spray.
Volume: 4 ounces
Ingredients: Purified Water, Polysorbate-20, Disodium EDTA, DMDM Hydantoin, and fragrance oils.