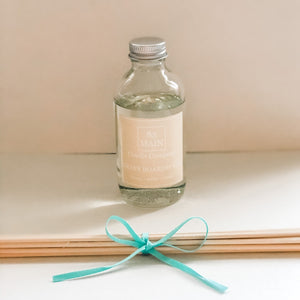 This honey, amber and tonka scented diffuser is like a warm blanket on a chilly night. Its warm and comforting blend makes your space cozy all year round. This scent is named after Grays Beach in Yarmouth Port, where you'll find engraved messages on the boardwalk planks that extends over the salt marsh leading to Cape Cod Bay. Our family's plank reads: 83 Main Forever Home. 

Reed diffusers are a wonderful flameless option to fill your space with a beautiful scent all day long, without the worry of a flame. Our reeds are all natural and made from responsibly harvested rattan. This product is safe and does not contain VOC (Volatile Organic Compounds) restrictions.
Directions: Place as many diffuser reeds in your bottle as you'd like. We find that 3-6 works just fine depending on the size of your space, but feel free to add more. The more reeds you use, the more fragrance is released.
Volume: 3.5 oz