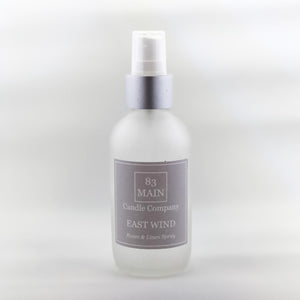 The easterly wind blows ever so gently on even the hottest days on Cape Cod, filling your soul with feelings of gratitude and relief.  This scent is just that. Fig, patchouli and orange blend together to fill your space with that gentle easterly Cape Cod breeze.
Room & Linen Sprays are infused with your favorite essential oils and fragrance oils as a more natural way to cleanse and revitalize the air around you. They are a great flameless alternative to eliminate odors and freshen your room and linens. Room & Linen Sprays are even safe to spray on your skin! 
Directions: Shake and spray.
Volume: 4 ounces
Ingredients: Purified Water, Polysorbate-20, Disodium EDTA, DMDM Hydantoin, and fragrance oils.